Are you going to college and dreading the freshmen 15? Unfortunately, the infamous weight gain upon entering college isn't an urban legend. It's a common problem facing many new college students, who encounter the world of all-you-can-eat food plus a more stationary lifestyle spent studying for exams. When many people go to college, they trade their active high school sports days for afternoons lounging in the library studying with friends or eating pizza and watching movies in their free time. And the college cafeteria is often filled with unhealthy choices in endless abundance. So it's no wonder that it can be hard to stay healthy during these years! Students must be very conscious of their lifestyle choices in order to avoid gaining weight during this time. Here are some ideas for staying in shape while you're studying in college:
Make healthy food choices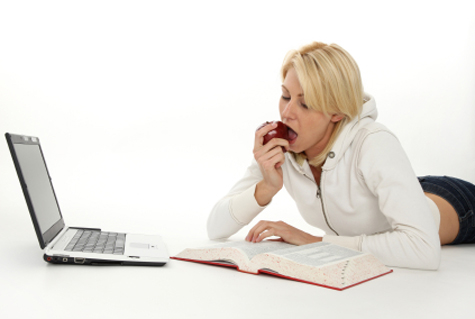 Even if you're on a meal plan, you can scout the cafeteria for healthy food options rather than always heading for calorie-laden pizza and ice cream. Your cafeteria will probably have a salad bar, so get a salad and ask for a piece of grilled chicken on top. Skip the unlimited French fries and go for brown rice if it's available. You can try healthy wraps or ask for grilled veggies and beans for protein. Be creative and ask the kitchen if they can accommodate your requests. As far as keeping food in your room, instead of chips and candy try pita bread, veggies and hummus to put in your mini fridge.
Find time to move
We know it's hard to carve out the time to exercise in college, especially when there are so many fun social events to attend and so many exams to study for, but if you integrate movement as part of your daily life, you won't find it so hard to stay in shape. Walk around campus rather than driving, and try joining a fun fitness class like yoga on campus. Get together with friends for a walk on the weekends. Your school will likely have a great gym that you can access for free since you're a student, so take advantage!
Take Supplements
If you're short on time and are looking to kick start your metabolism, supplements can really help with your fitness regime. Garcinia Cambogia is an example of one great weight-loss supplement that can help boost your serotonin while raising your metabolism. It lets your body burn more calories naturally, and is best used in conjunction with a healthy lifestyle.
Watch the partying
While going out and having a good time is part of the college experience, it can be detrimental for your health and your waistline. Alcohol is not only terrible for your body, but it has tons of empty calories that will pack on the pounds quickly. Not only that, but it tends to make you hungry and crave sugary, high-fat food. Cut back on the partying and you'll find getting into shape is much easier.